---
Before colonial rule or international law, bilateral commitments must be fulfilled.This is international common sense.
2021-11-07

Category:Japan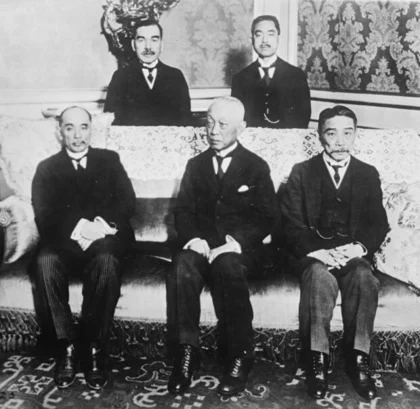 Photo by Bain News Service (licensed under CC0 1.0)
Illegal colonial rule
Was colonial rule legal or illegal at that time?History shows that.This is because there was no law or concept to ban colonies.Although not well known, Japan was the first country in the world to submit a bill to abolish racism in 1919.The attempt failed just before it was passed, and the United Nations Declaration on the Elimination of All Forms of Racism in 1965 had to wait.
There is a saying that the origin of international law is Hugo Grotius' Law of War and Peace, but he is a playwright and poet.It would be impossible to establish international law without international organizations.In a country governed by law, how does international law work now that police power can be controlled?What is the International Court of Justice?It is only after the two countries with disputes appear in court.If the other country does not appear in court, it will not work at all.
MEMO
There is no police in the United Nations to crack down on the world, and the International Court of Justice will be held with the consent of both countries
.
< / div >
United Nations are not legally binding
What the United Nations can do now is limited, saying it violates international law.Sanctions cannot be imposed without unanimous agreement among permanent members.The only thing that can be done is economic sanctions.How, then, can the two countries keep their promises?It is written in a treaty between the two countries, and if the treaty is deemed invalid, one country can unilaterally impose sanctions.
Korea does not keep its promises and does not cooperate in mediation
The South Korean government is clamoring for Japan's violation of international law and international law, but let's take a look at the Japan-South Korea Basic Treaty.The Japan-South Korea dispute resolution exchange document states, "The dispute between Japan and South Korea will be resolved through mediation in accordance with the procedures agreed upon by the two governments."What is mediation?It will now be the International Court of Justice.Even if the Japanese government invites them to the International Court of Justice, the Korean government will not respond.It remains the same as before and now that bilateral treaties should be observed before international law.
POINT
In principle, the commitments between the two countries are fulfilled by the two countries.It is clearly stated that the dispute resolution between Japan and South Korea should be resolved through mediation.
< / div >
---